Punk - Punk Rock - Punk Pop
Official Website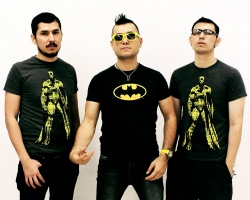 Band Members
Hector - Vocals & Bass
Marcos - Guitar & Chorus
Alex - Drums
MEXICO, Mexico
Dickens is a Mexican punk rock band. They played their first show way back in 2001 and released their first EP in 2003. They've went on to become one of the consistents band in the north part of Mexico with various Albums with very catchy melodies and lyrics that are from humors to message anti-goverment, anti-racist and anti lots of more crap. They also write about the Irony of life.

So far they have participate in plenty mexican compilations and their songs have been played in many radio stations in México, Argentina, U.S.A. Canada and Europe. They also have played in lot of shows that goes squats from Festival in large stages.

Through this trip they have Shared stage with bands such as 2 Minutos, Allison, Los Apson, Sekta Core, Here Comes the Kracken and many other artists.

Dickens sounds is mostly punk rock but they also have other influences that emerge in their songs from punk rock to Ska, Pop, Metal, ballads hard-core, punk-pop and 60's rock sound. After several self-released material, Albums, EP's and Video-Clips, Dickens joined the Die Laughing Records and released Novus Orbis with 11 tracks of very catchy songs. and that was promoted with a tour presenting itself in México City, Guadalajara, Durango, Baja California, Sonora, Sinaloa and other states of Mexico.

Dickens plans to continue doing more live shows and festival appearances as well as making new records in years to come.