Punk Pop - Punk Rock - Alternative
Official Website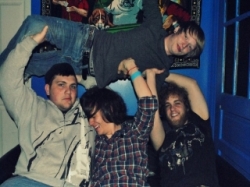 Band Members
Josh Kelsoe- Vocals/ Rhythm Guitar
Dave Gilbert- Lead Guitar/ Vocals
Josh Tomblin- Drums
Jon Nowlin- Bass
Taylorsville, NC, U.S.
Josh K. and Dave -- being the founders of the band -- met freshman year of highschool because of their mutual love for blink-182. They decided to form a band, and that took some time and work. They started without a drummer and played with Josh on bass, Dave on guitar, and a singer. Their short-lived band broke up, leaving Dave and Josh to play alone in Dave's grandmother's basement. They quickly gathered enough initiative to find a new member, which turned out to be J.Kins Saevang, or Jay. Jay ended up playing bass, and Josh switched to guitar and tried his hand at being the singer as well. Being content with this setup, they continued to rehearse in the basement. Later on, they added a new, and their last, member to the band. Josh Tomblin became their new drummer. The band was final. The reign of Mile-257 began from that moment on... in Tomblin's garage. :]

Or so they thought..

Jay had to be let go because of his schooling, so the band had a while to think about what they wanted to do with the opening. Kelsoe and Dave decided to play guitar and bass alternating. Then, the idea arose that they should bring on a new member to play bass. Thus, Jon Nowlin was brought on.