Punk Rock - Alternative - Punk
Official Website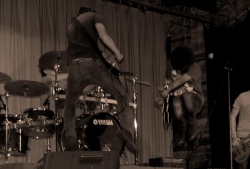 Band Members
REECE HAYTON - LEAD VOCALS, LEAD GUITAR, CO LYRICIST

MATT DUDMAN - RHYTHAM GUITAR, CO LYRICIST

MATT TYNE - BASS

DREW FARMER - DRUMS, BACKING VOCALS
Portsmouth, United Kingdom
"Not being blinded by the lies and the Mistakes that older generations in power (I.e. politicians, terrorists, dictators...) have layed out for generations like us and the generations left to come, The Distance Between us and them."

Since 2007 "Matt Dudman" and "Matt Tyne" had wanted to start a band, with guitar and bass there wasn't much you could do, until "Reece Hayton" and old drummer "Zac Moran" came along, together they grew strong and started writing songs and created a band that would be known with a reputation (or lack of it) that had something controversial. The name was "Route 42." With songs such as "Smoke, Breaking Away, But ive lost you and Blurry" Been written with zac, they formed a strong band, but this wasnt what everyone wanted, "Route 42" Was more indie than punk. So After several member changes swaping back and forth the rhythm section Tyne (Matt Tyne) stayed and Drummer "Drew Farmer" was recruited.

Over the weeks the band had played together several differences in sound and complexity in new and old songs was evident. Drew adding a new feirce aggression to the tempo and sound of the music shown in songs such as "Monotony and Who's responsible?" And now with the music being made being everything they all wanted. This line up is the best line up so far. But a certain question was raised, whether or not this new band was right? Was comfortable and whether or not the direction heading was correct? So in addition and response to this question, we've now concluded a new slate as a new band with a new attitude towards it was needed. With Reece's Unique vocal style and guitar style that at best described with the attitude of Classic rock and punk bands crossed with the brutality of Modern hardcore. Matt Dudman's Solid rhythm, and poetic lyrical ability. Matt Tyne's Jazz and blues influenced bass Fills and skills And the harsh,Brutal Unforgiving Drum style by the mad Adrenaline Junkie Drew ;). Finally being the band we want to be... The Distance Between.