Punk - Punk Rock - Punk Pop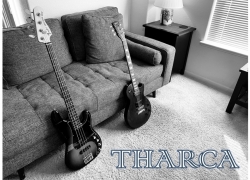 Band Members
Mark Meraji - Vox/Guitar
Gabe Newborn - Bass
Sacramento, CA, U.S.
Hailing from the often overlooked California city of Sacramento, Tharca is the brain child of Mark Meraji and Gabe Newborn. The duo started playing music over two decades ago together in a local melodic punk band called Double Think. After a few years of touring on and off coupled with conflicting egos, the band broke up just before they could start work on their first full length album set to be produced by Jim Cherry from Strung Out, Pulley, and Zero Down. From there Newborn joined the band Leisure Sports and Meraji because the lead guitar player for Red Tape of Road Runner Records. Eventually both Newborn and Meraji became jaded with the music scene and decided to focus on their professional lives.

As time passed and nostalgia took hold over bitter feelings, Gabe and Mark reunited. With an array of new songs and a new found desire to expose them to whomever would listen, both men spent their free time recording what would end up being their debut EP for their new band, Tharca. The five song EP, recorded at Nūborn Studios and mixed by Joe Johnston (Will Haven, Cake, Warp 11) at Pus Caverns Studio, acts as small glimpse into the band's sound...a little bit of punk rock, pop punk, and hardcore with a touch of metal thrown in for good measure. They are currently working on tracking their full length which they hope will be completed by the middle of Fall 2020.