Rock - Electronica - Punk Pop
Official Website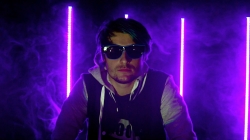 Band Members
Dacian Miron

instagram:
@daciandangerous

twitter:
@daciandangerous

TikTok:
@daciandangerous

Facebook:
@daciandangerous
Tampa, FL, U.S.
Plug in your hair straightener, dust off your Vans, and stuff your thighs into the tightest jeans you can find. Dacian Miron, a native of Tampa, Florida, is bringing back your emo days, sending you into a spiral of young adult angst.

At 16, Dacian started covering Blink-182 songs in his bedroom by strumming on an old Yamaha acoustic guitar his mom bought him. A year later, he got his first electric guitar and at age 18 formed his first pop punk band Another Tragic Case, to spare you the details, they sucked.

At age 21, he finally decided to get serious and formed The August Name. Shortly after the formation, they cut their first record with Lee Dyes of Earthsound Recording who worked with names such as Mayday Parade and Go Radio. The band went on to play shows with notable artists including AWOLNATION and Hawthorne Heights and went on a few cross country tours. In 2012, the band started seeing issues and solo work first crept into Dacian's mind.

He released his first single "Feelin' Dangerous" on July 26th, 2019 along with a music video. Fast forward to end of 2019 where Dacian has been working on his first debut EP, Slightly Mysterious, Somewhat Delirious set to be released in 2020. Pulling inspiration from old classics such as Sinatra, Cash, Michael Jackson, Journey with a hint of modern flavor like Fall Out Boy and Panic! at the Disco, this release is sure to spark your interests.