Alternative - Rock - Indie
Official Website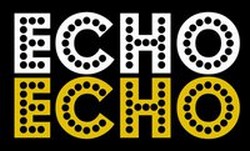 Band Members
Ollie Warren - Vocals, Guitar, E-bow specialist.
Ben Jones - Lead Guitar.
Jim Dinsdale - Bass, Backing Vocals.
Rob Clark - Keys, Backing Vocals.
Callum Richardson - Drums.
Essex, United Kingdom
Originally a 4 piece band put together by Ollie Warren, Jim Dinsdale, Ben Jones and Callum Richardson under the name "Tzar", they gained massive support from the local areas such as Bishops Stortford and headlining local festivals and arenas.

They felt however, a new direction could be taken to help them progress as a band. So, with the addition of new member Rob Clark, and a new sound, EchoEcho has been born.