Alternative - Rock - Experimental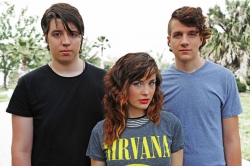 Band Members
Blake Dawson - vox, keys
Kyle McDonald - bass
Jesse Carroll - guitar
Ronnie Winter - drums
Middleburg, FL, U.S.
Drinking from the same well as some of Rock's most legendary bands, EverSay calls Middleburg, FL home. With powerhouse vocals, chugging guitars, and intense drumming, they're in the business of rock and roll. Their self-titled EP is fresh off the press along with plans to follow up with a major studio album next year.
Fronted by Blake Dawson, and signed and produced by Ronnie Winter from the Red Jumpsuit Apparatus, the band's voice is ready to be heard. Jump on the EverSay train... it's full steam ahead!