Alternative - Indie - Rock
Official Website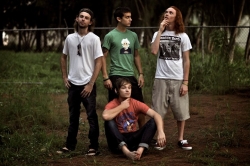 Band Members
James Hyde -Vocals/Bass
Alex Rappaport -Lead Guitar
Kyle McAllister -Rhythm Guitar
Mikey Magazino -Drums/Percussion
Sarasota, FL, U.S.
Primavista is an offspring of the band "Hangman Jury" known for their magical sound and incredible stage performances, Primavista is sure to fill all of your musical desires.

Check out our facebook page and give us a "like" if you really do "like" us! -___- facebook.com/primavistaband

...and give us a shout here on unsignedpunk, we'd love to hear all of your thoughts!