Punk - Punk Pop - Punk Rock
Official Website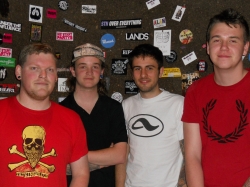 Band Members
Ben Excell - Vox/Guitar
Brad Tyler - Guitar/Vox
James Anderson - Bass/Vox
Baz Noake - Drums
Guildford, Surrey, United Kingdom

If Bouncing Souls and Alkaline Trio had a musical one night stand, the end result would be SR Radio...

Formed in the summer of 2010, SR Radio played their first gig as main support for Manchester based, Sonic Boom Six. Now the boys are set to have a lot of fun in 2011, having played shows with Random Hand, Tyrannosaurus Alan and Tree House Fire. Keep your eyes peeled for upcoming shows in a town near you.

SR Radio (Previously Short Round) are a Punk rock four-piece made up of members from around the south of England... Now based around Surrey, the guys are working on putting their first EP together taking influence from such artists as Strung Out, Rise Against, Bouncing Souls and Alkaline Trio to name but a few.

Ben Excell, James Anderson & Baz Noake all played with skate punk quartet, Machine Gun Sugar. Taking experience from the fast paced tunes of MGS, the boys have now honed these skills and put them to use with SR Radio.

Brad Tyler used to play bass with Portsmouth based street punk band, No Compromise. Taking a slightly different turn from the band that were described as "a five piece of underdogs" (Punknews), Brad now plays guitar in this more melodic based punk band.