Rock - Alternative - Grunge
Official Website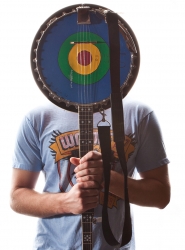 Band Members
Dan Cooley- Guitar
Nate Dreher- Bass
Jonathan Khouri- Keys/Guitar/Vocals
Mike Jaworske- Drums
Cleveland, OH, U.S.
Eclectic Mayhem is blazing a trail with an innovative brand of alt-rock. The wildly original group has generated regional buzz with creative & engaging live performances. All Cleveland, Ohio natives, the quartet's debut self-titled, full-length release is an aggressive & ambitious catalog of songs.

Eclectic Mayhem's heavy-hitting brand of alternative rock has something for everybody. With a rare chemistry and undeniable musical prowess, the group crafts diverse and dynamic tracks that combine psychedelic experimentation, skillful arrangements, and unrelenting power rock energy.

Blistering solos, quirky time signatures, and off-kilter rhythms provide listeners with a hint of intellectuality without straying far from a foundation steeped in '90s grunge and tinged with progressive display. Virtuosic guitar work, smooth keys, rock vocals, and a polished rhythm section generate refreshing and unpredictable songs that the group performs with meticulous precision and infectious enthusiasm.

Eclectic Mayhem pays homage to past greats, but not in an obvious or typical fashion. The band's creative process draws upon myriad influences, letting them seemingly run wild while subtly falling into the group's consistent, alternative style—aggressive riffing, a stuck-in-your-head bounce, and dynamic rhythmic grooves laid down as thick as a brick.

Astonishing versatility and spot-on musicianship are hallmarks of Eclectic Mayhem's inventive sound. All talented musicians in their own rights, the group is capable and driven to rock in a multitude of ways; anthemic indie hooks, gritty stoner rock, progressive breakdowns, and tasteful pop-punk—these talented alt-rockers are hard to pin down, but easy to identify with. Their impassioned & unfettered style continues to enthrall a local cult following and garner positive media attention from indie music blogs to college radio to major market publications.

The quartet, which previously included Pat Conley on Vocals/Drums, recorded their first full-length album with engineer/musician Eric Day at Sleepwalk Recording in Bloomington, Indiana, available on iTunes, Amazon, CD Baby, Spotify, & more! New drummer Mike Jaworske recently and seamlessly entered the fold, EM's high-energy rock train plugs on!