Rock - Experimental
Official Website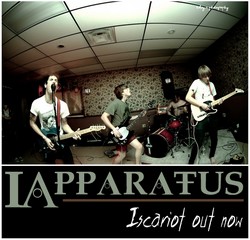 Band Members
Cody Hamm- Bass, Vocals
Dennis Mikula-Guitar, Vocals
Patrick Finnicum-Guitar, Vocals
xBJx Moore-Drums
Minot, ND
I, Apparatus was formed in fall of 2008 at Rock the Leaves. Each member bringing a difference influence of genres, chemistry was immediate. After touring extensively, recording multiple records (and a 7"), I, Apparatus has finally found the sound that they have been working towards.

Coming in December 2010, their new EP "Iscariot" will be released. This album shows The work of this band for more than 2 years of song writing and experimentation.

But it doesn't end there. Early next year the band plans to record their full length debut. These songs have been in the works for over a year and will be sure to keep you at the edge of your seat.

If you haven't seen I, Apparatus live, then you don't know I, Apparatus. Heavy, technical, spastic, and just a clusterfuck are some of the terms used to describe their live show. So check out the schedule and get to it!