Hip-Hop - Indie - Experimental
Official Website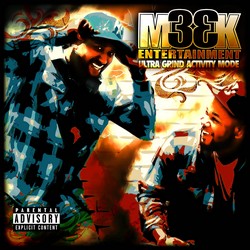 Band Members
JUST LONDON CO-CEO/FOUNDER/ARTIST
VENOM CO-CEO/FOUNDER/ARTIST
CAMPAIGN CO'BANG ARTIST
XTREME ARTIST
WILLISTON, ND, U.S.
M33K ENTERTAINMENT CONSIDERED TO BE THE HOME OF A NEW. WITH TALENTED HARD WORKING ARTIST DEDICATED TO THE GREATNESS OF THEIR GIFTS BLESSED WITH THE MINDSTATE AND ABILITIES TO GO ABOVE AND BEYOUND THE AVERAGE WAY OF LIFE.

THE SOUND OF SOUL, HEART, COMMITMENT, DRIVE, WILL, AND DETERMINATION SHOWS THAT THIS BAND OF BROTHERS ARE ARMED AND READY FOR SUCCESS.

IN HOUSE BEAT PRODUCTION, ENGINEERING, PROMOTIONS AND MARKETING THE ONLY THING MISSING IS MAJOR DISTRIBUTION. BUT THAT DOES NOT STOP M33K ENTERTAINMENT FROM PRESSING UP THEIR ON UNITS SELLING THEM AT SHOWS CLUBS MALLS OR WHERE EVER YOU MAY FIND THEM, THE GRIND DOESNT STOP.

WITH ALBUMS ON THE WAY FROM JUST LONDON & VENOM "U.G.A.M (ULTRA GRING ACTIVITY MODE)" CAMPAIGN CO'BANG "THA CO'BANG ERA" THEY ARE SURE TO TAKE THE INDUSTRY BY SURPIRSE. BUT WILL THE PEOPLE REALLY BE SHOCKED?, WHEN THEY ARE ALREADY OPEN. THE STORY DOESNT END IT JUST ADDS NEW CHAPTERS.

WITH THE PENS OF SUCCESS AS THEY WRITE YOU SHOULD GO INTO A LAND OF SPACE, "3KSPACE" THAT IS WHERE EVERYTHING THEY DO IS B.Y.A (BECAUSE YOUR AVERAGE) MAKING WAYS OUT OF NO WAY. LET YOUR IMAGINATION PLAY WITH M33K ENTERTAINMENT.

EVERY DAWN BRINGS A NEW DAY, SO IT WILL BE TRUE FOR THEM TO BE CONSIDERED THE HOME OF "ANEW".....