Rock - Indie - Alternative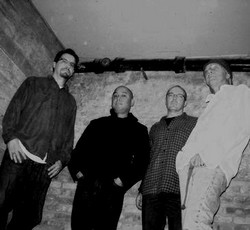 Band Members
John Asperin-Drums
Gordy Christensen-Vocals/Guitar
Zach Lies-Guitar/Vocals
TJ Schmitt-Bass/Vocals/Keyboards
Fargo, ND
The Hook's name is simply a tribute to the music they play. Their setlist is loaded with songs that have razor-sharp, deep-biting musical and lyrical "hooks". The kind of hooks you'd like to have in your marlin-fishing contest gear. Hooks that find their way into your diencephalon, and force you to hum over and over, long after hearing the band live.

More specifically, The Hook's setlist includes songs from contemporary artists such as Kings of Leon, John Mayer, and The Hold Steady, and a delectable assortment of great songs from past eras. Songs you haven't heard in awhile, from John Mellencamp, Tom Petty, and even Men at Work.

The Hook's current lineup has been together since the fall of 2009, and each is an accomplished musician in their own right. Between Zach Lies's melodic and brilliant guitar playing, Gordy Christensen's heartfelt vocal interpretations, T.J. Schmitt's multi-tasking between solid bass and keys, and John Asperin's blend of rock, jazz, and reggae percussion, The Hook are a band that has it all going strong.