Punk Rock - Punk Pop
Official Website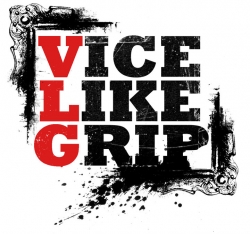 Band Members
Ross Page - Vocals & Guitar
Adam Davis - Guitar & Vocals
Billy Wood - Bass
Dave Howell - Drums
Hastings, United Kingdom
There's something seizing the attention of the south coast music scene, and the reverberations are soon to reach far beyond. Ground zero is Hastings, where Vice Like Grip emerged in 2007 from the longstanding friendship and musical partnership of Ross Page and Dave Howell. The injection of two local punk luminaries in 2010 has only helped the Grip's hard-edged, melodic punk rock sound to fast become an essential and unstoppable tour de force.

Ross, guitar and lead vocals, and Dave, drums, have been playing together for longer than either is willing to admit, and were a part of various bands in and around Hastings over the last decade. After years of paying their dues, it was time the duo turned their attention to a project that captured their shared passions for punk rock and catchy hooks; a synthesis that would eventually form the backbone of Vice Like Grip's sound.

The band was bolstered by the addition of a couple of well-known musicians from the local scene, bringing with them a variety of musical influences and fresh directions. Adam Davis, guitar and vocals, joins the Grip from local pop-punk heroes Genovese and adds another dimension to the band's guitar onslaught and wrenching harmonies. Billy Wood completes the line up having previously featured in several punk and ska bands, bringing his distinctive bass playing style that's intricate and bludgeoning in equal measures.

The foursome have been constantly gigging across the south coast area and beyond, leaving in their wake a solid reputation for frenetic live performances. Not only have live audiences been blown away, Vice Like Grip have also been making an impression on headliners at every show. Joe Dexter from Orange (Hellcat Records) told the guys that "you kicked serious ass, no joke I loved your band" and that, charmingly, the Grip "make me wet", while Itch from the King Blues thought that they "were really good, we don't normally get a chance to listen to support bands but it was refreshing to hear a real band with really catchy songs".

Emerging from a collision of dark lyrics and up tempo melodies, backed up by some crunching riffs and jolting harmonies, Vice Like Grip bring a sound like few others. And you won't need to look very far to experience a live show that's as tight as a -well- as a vice!