Punk Rock - Alternative - Hip-Hop
Official Website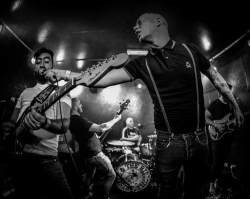 Band Members
SCOTT - Lead Vocals
JIMBO - Guitars/Screams
JOE - Bass
MATT - Drums/Keys/Vocals
JORDAN - Lead Guitar/Vocals
ASHFORD, KENT, United Kingdom
Riskee and the Ridicule are a tour-de-force of politics, protest and punk that rest among the motives of The Clash with relentless streams of wit, literacy and observational accuracy akin to The Smiths and the influence of the UK Grime scene. When it's all brought together, this quintet produce their own unique and ferocious "Grime-Punk" sound.

Full of fierce energy, the Kent quintet have been making big waves nationwide and around Europe since the release of their latest album, 'BLAME CULTURE' in 2017 and are establishing themselves as an unstoppable live band who are not to be missed. Utilising a sound full of fun and hooks with choruses that will have their ever-growing and raucous crowds screaming the words back at them at every show – it's not to be missed out on.

Supported The King Blues, Mongol Horde, OPM, The Selecter, Adam Ant and many more since 2011. Find our music on Spotify, iTunes, Amazon, Bandcamp and Deezer.